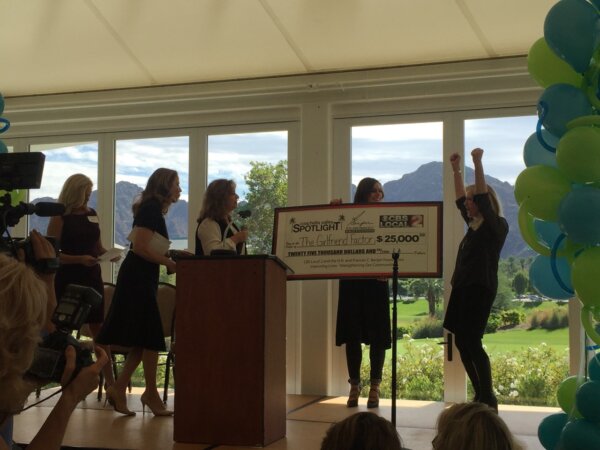 As more than 200 guests – mostly girlfriends – celebrated The Girlfriend Factor's 10th Anniversary, Catharine Reed from H.N. and Frances C. Berger Foundation surprised the group with a $25,000 Coachella Valley Spotlight grant.
"This was an exciting month for us," said Joan Busick, Founder and Executive Director of The Girlfriend Factor (GFF). "It feels like only yesterday GFF was an idea, and now we are celebrating ten years. Our organization has sustained and helped more than 120 valley women pursue their dreams because people and organizations, like the Berger Foundation and CBS Local 2, have believed in us."
Busick and a few of her girlfriends started The Girlfriend Factor after realizing that many women find a need to improve their financial position and self-sustainability after missing the traditional college years. GFF raises funds and provides renewable education grants and emotional support to local motivated women, 25 years and older, so they may reach their potential and achieve their goals through higher education or occupational training.
"We believe education is the key to self-sufficiency and financial advancement for women who have had set backs in their lives," said Busick.
In January 2017, the organization will increase its grants from $2,000 to $3,000 per person, per year. With GFF gaining more and more financial support to fund these educational grants, the organization plans to use the Coachella Valley Spotlight funding to implement a public awareness campaign about the importance of education and the assistance available.
"Sometimes all people need to pursue their goals is to know they are supported. GFF does that in a number of ways, and by raising awareness of this organization, hopefully more women will be inspired to improve their financial position," said Catharine Reed, Program Director for the H.N. and Frances C. Berger Foundation, who revealed that girlfriends provided her with positive encouragement when she returned to school for a career change.
"GFF is a great example of a grassroots organization in our valley that has grown into something making a very positive impact on people's lives and our way of life in the Coachella Valley," said Mike Stutz, General Manager of Gulf California Broadcast Company, which owns and operates CBS Local 2. "We are happy to support them as the 94th recipient of the Coachella Valley Spotlight."
Along with the grant, The Girlfriend Factor was featured on CBS Local 2's "Eye on the Desert," in public service announcements and on the www.cbslocal2.com website throughout the month of November. For more information call 760-772-9594 or visit www.thegirlfriendfactor.org.