Legacy
When H.N. and Frances C. Berger met in Santa Barbara, they were an ideal match of optimistic middle class achievers striving for a better tomorrow. "Fran" was a school teacher and "Nor" was an accountant for an oil company. Their complementary positive outlooks and exceptional ability to overcome obstacles produced a force of unflappable determination and assured success when joined together. They married in 1925.
Always seeking new challenges, but without the reserves to take big steps, the Bergers borrowed $200 from a jeweler friend to purchase their first piece of property and create a new beginning. They took the small loan and bought a residential lot in Santa Barbara where, working together, they built their first home.
Their dreams went beyond their own personal financial gain.
From this simple beginning, their land and development empire grew. The Bergers duplicated their first purchase many times over and became savvy in the business and real estate worlds. Eventually they moved to San Marino, California, where they continued to purchase and develop property. In short order, they owned development and real estate throughout Southern California.
Having achieved success in real estate, the Bergers sought a new challenge in the banking industry, and founded Prudential Savings and Loan. Prudential eventually merged into Financial Federation, where Norwood Berger served as Chairman.
The self-made couple never lost sight of their humble beginnings and those less fortunate during their years of accomplishment. As their good fortune increased, Fran and Nor quietly began their lifelong charitable efforts. Their dreams went beyond their own personal financial gain, and they looked outside their comfortable lifestyle to attain deeper, fulfilling goals. They believed in opportunity for everyone, no matter what their status in society, and there was a special place in their hearts for children, the leaders of tomorrow.
The Bergers understood that through their wealth, they could bring opportunity and knowledge to others and "help people help themselves" by providing the necessary resources to encourage and enable dreams to be followed and goals to be reached. With this philosophy as their core belief, they proceeded to establish the H.N. and Frances C. Berger Foundation as a private family foundation in 1961.
Fran and Nor immediately set their sights on programs to benefit young people, including scholarships, college buildings, and hospitals. Through the years, their philanthropic legacy continued to expand and reach out to those in need throughout California and the United States.
Nor Berger passed away in 1988 and Fran Berger died three years later. The impact of their generous and compassionate philanthropy is impossible to measure. Their boundless optimism, strong sense of responsibility to community and dedicated support of youth, defined their true essence beyond financial achievements. Their mission, "to help people help themselves," has become a modern day mantra throughout the world.
Today, the Foundation that carries their name, the H.N. and Frances C. Berger Foundation, continues to honor and carry out their legacy.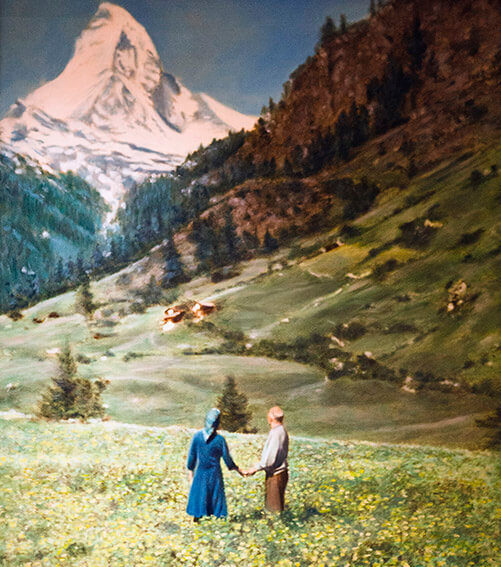 Ronald M. Auen served as President and Chairman of the Board of the H.N. and Frances C. Berger Foundation from 1988-2019.
Upon Mr. Berger's death, Auen became responsible for the formation, guidance and measured expansion of the Foundation. With a deep commitment to fulfill the Berger legacy established in 1961 to "help people help themselves," Auen successfully guided the Foundation through its diverse philanthropic interests and growth for more than two decades.
Upon taking the helm of the Foundation, Auen created the principle fund for the H.N. and Frances C. Berger Foundation by divesting and selling the variety of companies, including a financial institute, owned by Mr. and Mrs. Berger. The properties included vacant and income-producing real estate that required extensive review and expertise with regard to the properties to be sold and the properties to be held as investments.
To safeguard and ensure the Foundation's financial and charitable future, Auen created a business plan to incorporate the donors' entrepreneurial skills, which were real estate investment, land planning and financial investments such as stocks, bonds and securities.
To accomplish these goals, the business plan called for Board members to be professional in one or all of the areas, and to actively participate with their skills as Officers of the Foundation.
Auen's experience as a Real Estate Broker and General Contractor contributed to his successful implementation of this process. Under Auen's leadership, beginning in 1988, the H.N. and Frances C. Berger Foundation contributed millions of dollars to charities throughout Southern California and the United States.
Prior to becoming President of the Berger Foundation, Auen excelled in general contracting and land planning services. From 1961 to 1988, he provided land planning services and developed a variety of projects with and for Silver Crest Industry representatives, and was President and Owner of Foremost Land Co., Inc. His work with Foremost Land, Co. Inc. included designing and developing multiple projects. During this time he also performed general contracting work for and with Mr. Berger.
From 1956 through 1961, Auen honed his general building contractor and developer skills completing numerous commercial, industrial and residential building projects.
Auen was a proud veteran of the U.S. Army, which he served from 1948 through 1952.