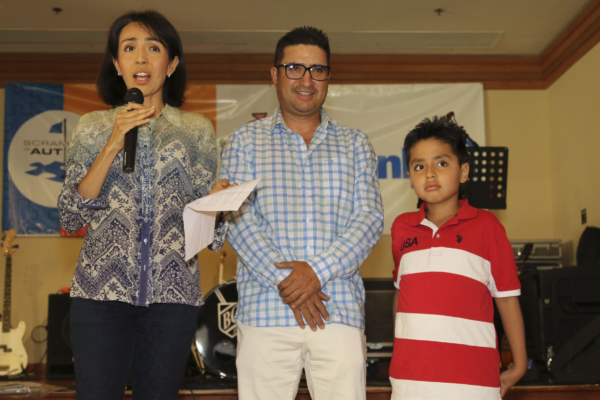 The H.N. and Frances C. Berger Foundation, in partnership with News Channel 3, awarded a $25,000 Coachella Valley Spotlight grant to Desert Autism Foundation, a 501(c)3 organization that helps local families deal with the challenges of raising a child with autism.
This year's Coachella Valley Spotlight grant recipients were all selected at the end of 2019, and each one is honored monthly by receiving grant funding and media exposure on News Channel 3's platforms. Last year, 90 applications were received for only 12 grants.
"We are very grateful to receive this month's Coachella Valley Spotlight," said Randy Corti, Founder of Desert Autism Foundation. "This grant could not have come at a better time. Because of the coronavirus pandemic, we had to cancel our organization's annual golf tournament, which has raised up to $120,000 in the past. And, with stay-at-home orders in place, families with an autistic child are experiencing more and different challenges because they cannot maintain the routines and outings they are used to."
Corti and his wife, Lisa, founded Desert Autism Foundation in 2005 After their son, now 24 years old, was diagnosed with autism, the couple found that specialty speech and occupational therapies, which make significant improvements in children's behaviors, were very expensive and sometimes out of budget for some families. Seeing what these therapies did to help their own child encouraged the Cortis to help other families. Currently, the organization helps about 90 local families by negotiating therapy rates with local specialists, so families only have to pay about $20 for a $100 session. Desert Autism Foundation also helps families afford music lessons.
"There's no doubt that people need support right now, and we are happy we can help families with autistic children receive these important therapies," said Catharine Reed, Vice President of Charitable Programs for the H.N. and Frances C. Berger Foundation.
The gift comes at a notable time, as April is National Autism Awareness Month. The national Autism Society recognizes that autism diagnoses in the U.S. have risen exponentially from 1 in 125 children in 2010 to 1 in 59 in 2020.
"It's essential that families have some aspects of 'normalcy' and things they can count on right now. These therapies provide some of that for families with autistic children," said Jerry Upham, General Manager of Gulf California Broadcast Company, which owns and operates KESQ News Channel 3 and KPSP CBS Local 2.
Through the Coachella Valley Spotlight partnership with the H.N. and Frances C. Berger Foundation and News Channel 3, Desert Autism Foundation was featured on News Channel 3 programming, in public service announcements and on kesq.com. For more information about Desert Autism Foundation go to www.desertautismfoundation.org.