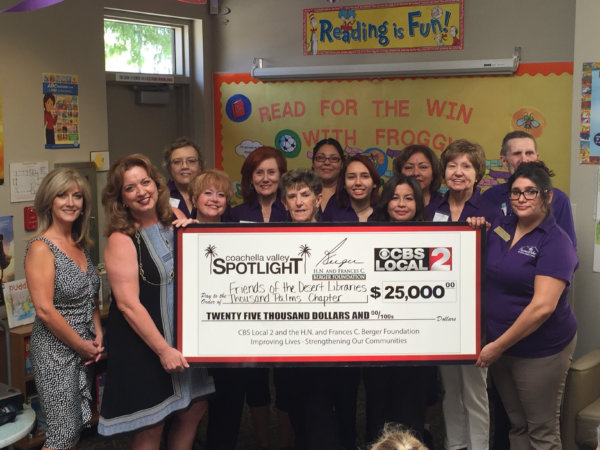 For its 10th Anniversary, the Art Samson Community Library received a very special gift – a $25,000 Coachella Valley Spotlight grant from the H.N. and Frances C. Berger Foundation. Friends of the Desert Libraries, Thousand Palms Chapter was the latest recipient of the grant awarded each month through a partnership between the Foundation and CBS Local 2.
"This is a very special day for the library," said Patricia Bergman, treasurer of Friends of the Desert Libraries, Thousand Palms Chapter. Bergman also wrote the application, along with the library's branch manager, which earned the attention of the CBS Local 2 Community Advisory Board, which selects each recipient. "The grant from the Berger Foundation and the media coverage fro CBS Local 2 are much appreciated gifts to our library and our community."
The "Friends" group submits grants and seeks large donations as much as possible, but more commonly relies on membership dues, small gifts, used book sales and other community fundraisers. Riverside County also supports the library, which began with the vision of former Thousand Palms resident Art Samson.
"Art passed before the library was a reality," said Roxanna Garcia, library branch manager. "I think he would be so happy with the facility it is today, and that members of the community continue his passion by raising money for the library and awareness about the importance of reading and lifelong learning."
Grant funds will be used to purchase technology that library officials say is desperately needed. Items including laptops, tablets, headphones, a television, DVD player and a projector will help the library stay current with the educational offerings of the 21st century. The gift will also allow the library to present more community programs to the people it serves, from infants to the elderly.
"It is evident that the Thousand Palms community loves and cares for its library, maintaining a beautiful facility and working to ensure that is offers the same types of programs larger libraries in the valley do," said Catharine Reed, Program Director for the H.N. and Frances C. Berger Foundation. "We are happy to have a hand in that effort."
"It's great to see the Art Samson Community Library diversify and use this grant to increase available technology and add valuable community programs," said Mike Stutz, General Manager of Gulf California Broadcast Company, which owns and operates CBS Local 2.
Along with the grant, the Friends of the Desert Libraries, Thousand Palms Chapter was featured on CBS Local 2's "Eye on the Desert," in public service announcements and on the www.cbslocal2.com website throughout the month of June. The Art Samson Community Library is located at 31189 Robert Road, Thousand Palms. For more information call 760-343-1556 or visit www.rivlib.info