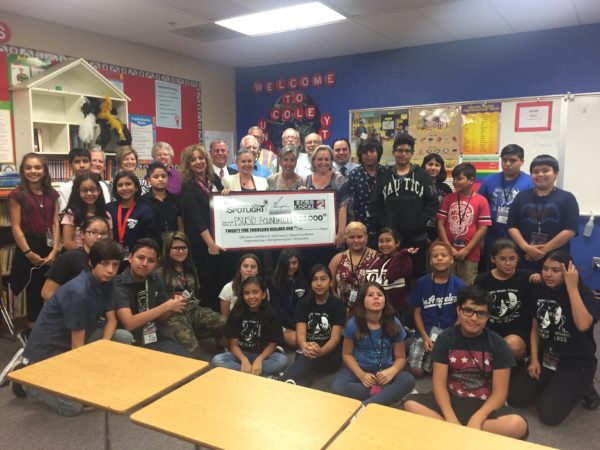 The H.N. and Frances C. Berger Foundation presented a $25,000 check to a group of excited students, teachers and administrators at Nellie Coffman Middle School in Cathedral City on Sept. 27, a grant award that will benefit the non-profit fundraising arm of the Palm Springs Unified School District.
The Coachella Valley Spotlight grant was awarded to The Foundation for Palm Springs Unified School District, which works to close the gaps in local and government funding for public schools. Each year, the organization provides teachers and administrators with micro-grants in the arts, technology, and other areas to meet classrooms and school needs.
"Our Foundation builds public-private partnerships to strengthen our schools and create opportunities for students to achieve. It's our way of creating an effective grassroots incentive to encourage teachers to reach for excellence," said Ellen Goodman, executive director of The Foundation for Palm Springs Unified School District.
The Foundation is more than a grant-making organization. It aims to improve lives and strengthen the community by furthering public education. The Foundation believes every student in the Palm Springs Unified School District deserves the opportunity to be prepared and succeed in postsecondary education or a career after high school.
"These grants are all about giving students the skills they need to get 21st-century jobs and the analytic thinking and creative capacity required to succeed in classrooms and life beyond graduation," said Catharine Reed, program director of the H.N. and Frances C. Berger Foundation.
The Foundation's original mandate of distributing classroom micro-grants to teachers has been expanded to include donor-naming opportunities, commercial and business underwriting of specialized curriculum academies, formal appeals to venture philanthropists, major donors, aggressive grant-seeking, and the formulation of local and national sponsorship opportunities.
The Foundation's vision is to mobilize individual investors, businesses, teachers, parents, and community leaders to ensure the success of all students.
"It is gratifying to see The Foundation unite our community members and join forces to fulfill the promise of public education and prepare every student for success," said Mike Stutz, general manager of Gulf California Broadcast Company, the owner and operator CBS Local 2.
For more information about The Foundation for Palm Springs Unified School District or to make a donation, visit www.psusd.us/TheFoundation.